This is my favourite soup. In china it is usually eaten for breakfast, but I eat it all the time (including breakfast.
This recipe is from a vietnamese chef here in Australia.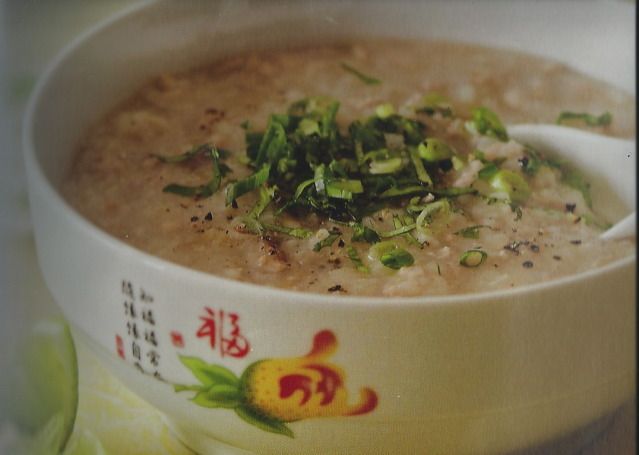 Congee
1 tablespoon ricebran oil
1 clove of garlic finely chopped
1 onion finely chopped
300g minced chicken (can use pork or beef, but chicken tastes best)
2 litres ll purpose chicken stock (recipe follows or use tetra pack, not a cube)
50g ginger cut into julienne
1 teaspoon ground white pepper
2 tablespoons fish sauce
2 tablespoons granulated white sugar
150g (3/4 cup) long grain rice (I use basmati or Jasmin) rinsed
Thinly sliced coriander (cilantro) leaves, chopped spring onions (scallions), lime wedges and freshly ground black pepper, to serve.
Heat oil in a saucepan over medium heat.
Add garlic and cook for 15-20 seconds.
Add onion and cook over medium heat for 2 minutes or until translucent.
Add Chicken and cook, stirring for 2 minutes.
Add stock, ginger, pepper, fish sauce, sugar and rice and bring to boil over high heat.
Then reduce heat to medium and cook for thirty minutes, stirring occasionally.
Serve piping hot in bowls, scattered with coriander and spring onions, a squeeze of lime juice and some freshly ground black pepper.
All Purpose Chicken Stock
2kg chicken bones (I use wings or carcasses)
1 teaspoon salt
1 small onion halved
50g ginger, bruised
5 litres water
Wash chicken bones in water with a squeeze of lemon juice, and then rinse. Place in a large stockpot and add 5 litres water and the salt. Bring to the boil over medium heat and skim off any foam and discard. Add onion and ginger, reduce heat to low and simmer 3 hours, skimming the surface frequently. Remove from heat and leave to cool for thirty minutes only.*
Strain through a piece of muslin or a very clean tea towel, transfer to three 1-litre containers and freeze until required. Frozen stock will keep for up to 3 months.
*stocks can become tainted easily so cool as quickly as possible before refrigerating or freezing, then bring to the boil again before using. I place the pan in a sink full of cold water, drain the water away when it becomes warm and refill.
Photo and recipes from Little Vietnam by Nhut Huynh
published by the Penguin Group 2009
EDIT: This is the fish sauce I use and recommend.